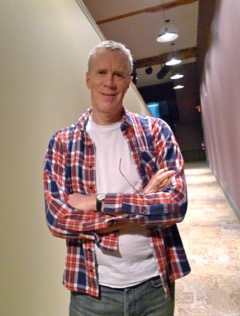 The recent passing of Canada's Storyteller Stuart Maclean has brought back many fond memories. Perhaps one of the best is the two sold out shows when he brought the Vinyl Cafe to the Smiths Falls Station Theatre.
Our theatre had been open less than a year when the production vehicle pulled into town and began to set up for the two shows in January 2011. Stuart did his usual thing and wandered around town, meeting people and getting a feel for what makes Smiths Falls tick.
At the time, the theatre shared the building with the VIA train station. With his usual keen eye for detail Stuart noted that, "the Smiths Falls Via station is the only one in the country with two-ply bathroom tissue."
One of the things about the Vinyl Cafe is that you also get to hear some great music. An invitation to perform at a live Vinyl Cafe show is one that is coveted by any musician. We got to enjoy Hannah Georgas and the duo of Jenny Whitely and Joey Wright.
Unfortunately, we can't find an archived recording of his Smiths Falls shows, but memories of his wonderful stories will remain as part of the cultural fabric of Canada for years to come.
Here's a few images of his time at The Station Theatre.