The Smiths Falls Station Theatre is a great place to see movies as they were meant to be seen – on a BIG screen (ours is 14 feet wide), with BIG sound (our theatre speakers are big and distortion-free). Seeing a comedy with lots of other people makes it that much funnier (ever heard that laughter is contagious?). Seeing a gripping drama with a crowd gives it that much more impact. Seeing action on a BIG screen makes it that much more thrilling. Come out and enjoy a movie at The Station Theatre.
---
Coming in March
Nebraska
Starring Bruce Dern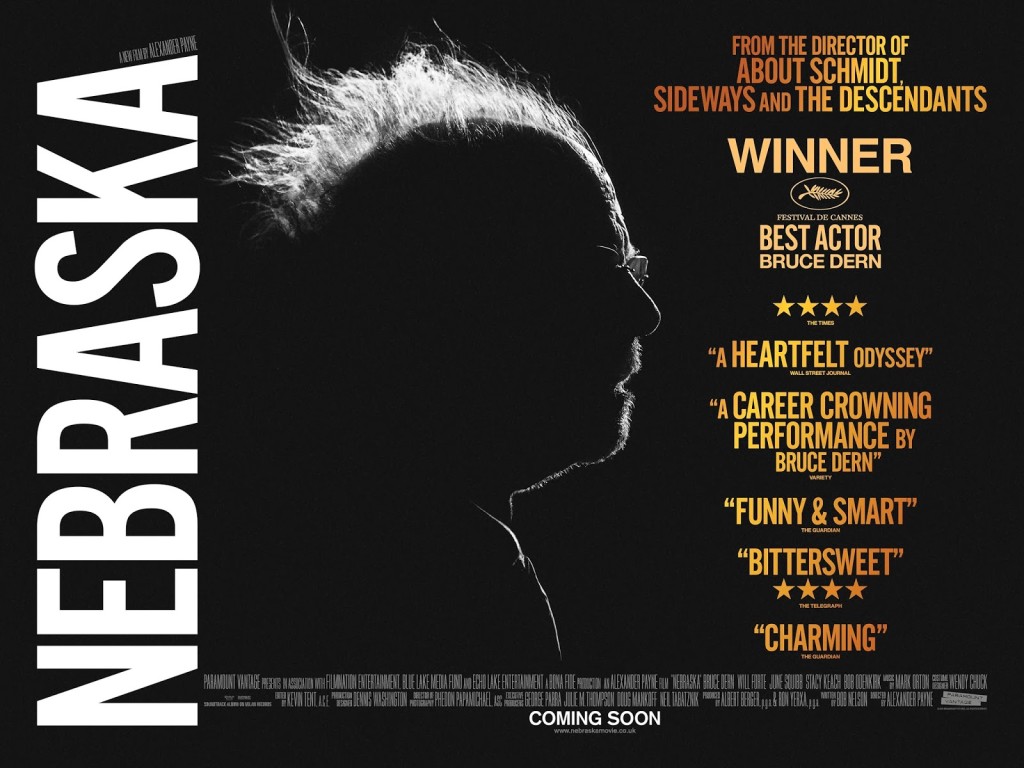 Friday March 21 and Saturday March 22
7:30 start
$10 (cash only) general admission at the door
$5.00 students (with ID)
---
Coming in April
August: Osage County
Starring Meryl Streep and Julia Roberts

Friday April 18 and Saturday April 19
7:30 start
$10 (cash only) general admission at the door
$5.00 students (with ID)
---
Film Night International
Passes for the Winter 2014 series are now available at the Smiths Falls public library
THE WINTER 2014 SERIES
---
ALL IS LOST
THURSDAY, March 27, 2014 at STATION THEATRE, SMITHS FALLS
Country: USA
Language: English
Ontario rating: PG
Deep into a solo voyage in the Indian Ocean, an unnamed man (Robert Redford) wakes to find his 39-foot yacht taking on water after a collision with a shipping container left floating on the high seas. With his navigation equipment and radio disabled, the man sails unknowingly into the path of a violent storm. Despite his success in patching the breached hull, his mariner's intuition, and a strength that belies his age, the man barely survives the tempest. Using only a sextant and nautical maps to chart his progress, he is forced to rely on ocean currents to carry him into a shipping lane in hopes of hailing a passing vessel. A gripping, visceral and powerfully moving tribute to ingenuity and resilience.
GABRIELLE
 THURSDAY, April 10, 2014 at STATION THEATRE, SMITHS FALLS
Country: Canada
Language: French with English subtitles
Ontario rating: 14A
Living in a group home, musically talented Gabrielle has found love in Martin, a fellow member in a choir for developmentally disabled adults. Gabrielle and Martin want to explore their feelings for one another physically, but are not allowed. Convinced that living alone will allow her to have the intimate relationship she so desperately craves, Gabrielle tries valiantly to prove she can be independent. Gabrielle's rock is her sister Sophie who tries to help her but knows full independence will never be possible.
 SIDDHARTH
THURSDAY, April 24, 2014 at STATION THEATRE, SMITHS FALLS
Country: Canada/India
Language: Hindi with English subtitles
Ontario rating: 
A "chain wallah" who makes his meagre living mending zippers in the streets of New Delhi, sends his 12-year-old son to work in a factory in another province to help support their family. The boy is supposed to come home after a month away. When he fails to return or call, the guilt-ridden father takes swift action but faces obstacles at every turn: he has no money, or even a photograph of his son; the authorities scold him for putting his son to work and suggest his son would be untraceable if kidnapped and trafficked in a population of a billion people.
Trailer: http://www.youtube.com/watch?v=C34mVe0efL4
---
For more dates and titles visit the website at