The Smiths Falls Station Theatre is a great place to see movies as they were meant to be seen – on a BIG screen (ours is 14 feet wide), with BIG sound (our theatre speakers are big and distortion-free). Seeing a comedy with lots of other people makes it that much funnier (ever heard that laughter is contagious?). Seeing a gripping drama with a crowd gives it that much more impact. Seeing action on a BIG screen makes it that much more thrilling. Come out and enjoy a movie at The Station Theatre.
---
Have you got your Station Theatre Movie Reward Card?
See FREE Movies
---
New Start Time for

ALL MOVIES – 7:00 pm
Adults $10 – Students (with ID) $5
Cash Only – General Admission
---
Coming April 21 & 22
Movies Start at 7:00 pm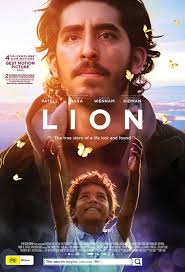 Five year old Saroo gets lost on a train which takes him thousands of miles across India, away from home and family. Saroo must learn to survive alone in Kolkata, before ultimately being adopted by an Australian couple. Twenty-five years later, armed with only a handful of memories, his unwavering determination, and a revolutionary technology known as Google Earth, he sets out to find his lost family and finally return to his first home. Rated PG – 13.
---
Film Night International
All films start at 7:00 pm
A Man Called Ove
THURSDAY, March 23, 2017 at 7:00 pm
Country: Sweden
Language: Swedish with English subtitles
Ontario rating: PG
59 year old Ove is the block's grumpy man who several years earlier was deposed as president of the condominium association, but he could not give a damn about being deposed and therefore keeps looking over the neighborhood with an iron fist. When pregnant Parvaneh and her family moves into the terraced house opposite and accidentally backs into Ove's mailbox it turns out to be an unexpected friendship.
For details visit