The Smiths Falls Station Theatre is a great place to see movies as they were meant to be seen – on a BIG screen (ours is 14 feet wide), with BIG sound (our theatre speakers are big and distortion-free). Seeing a comedy with lots of other people makes it that much funnier (ever heard that laughter is contagious?). Seeing a gripping drama with a crowd gives it that much more impact. Seeing action on a BIG screen makes it that much more thrilling. Come out and enjoy a movie at The Station Theatre.
---
Have you got your Station Theatre Movie Reward Card?
See FREE Movies
---
New Start Time for

ALL MOVIES – 7:00 pm
Adults $10 – Students (with ID) $5
Cash Only – General Admission
---
 March Movie Weekend
March 16 & 17, 2018
The Darkest Hour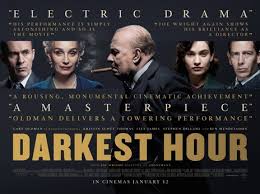 Within days of becoming Prime Minister of Great Britain, Winston Churchill (Gary Oldman) must face one of his most turbulent and defining trials: exploring a negotiated peace treaty with Nazi Germany, or standing firm to fight for the ideals, liberty and freedom of a nation. As the unstoppable Nazi forces roll across Western Europe and the threat of invasion is imminent, and with an unprepared public, a skeptical King, and his own party plotting against him, Churchill must withstand his darkest hour, rally a nation, and attempt to change the course of world history.
Motion Picture Rating (MPAA)
Rated PG-13 for some thematic material
---
** Please note – FNI is presented by Friends of the
Library. If you are interested in tickets or passes,
you must contact the SF library (613-283-2911)
Film Night International
Thursday, March 22 @ 2pm (new) and 7pm
Lady Bird
 
Country: USA
Language: English
Ontario rating:14A
Explores the turbulent bond between a mother and her teenage daughter who is exactly like her wildly loving, deeply opinionated and strong-willed mom, a nurse working tirelessly to keep her family afloat.
For more details visit