The Smiths Falls Station Theatre is a great place to see movies as they were meant to be seen – on a BIG screen (ours is 14 feet wide), with BIG sound (our theatre speakers are big and distortion-free). Seeing a comedy with lots of other people makes it that much funnier (ever heard that laughter is contagious?). Seeing a gripping drama with a crowd gives it that much more impact. Seeing action on a BIG screen makes it that much more thrilling. Come out and enjoy a movie at The Station Theatre.
---
Have you got your Station Theatre Movie Reward Card?
See FREE Movies
---
New Start Time for

ALL MOVIES – 7:00 pm
Adults $10 – Students (with ID) $5
Cash Only – General Admission
---
 February Movie Weekend
February 16 & 17, 2018
Wonder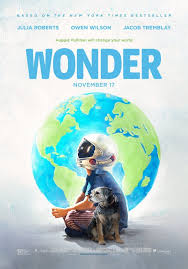 Based on the New York Times bestseller, WONDER tells the incredibly inspiring and heartwarming story of August Pullman. Born with facial differences that, up until now, have prevented him from going to a mainstream school, Auggie becomes the most unlikely of heroes when he enters the local fifth grade. As his family, his new classmates, and the larger community all struggle to discover their compassion and acceptance, Auggie's extraordinary journey will unite them all and prove you can't blend in when you were born to stand out.
Motion Picture Rating (MPAA)
Rated PG for thematic elements including bullying, and some mild language
---
** Please note – FNI is presented by Friends of the
Library. If you are interested in tickets or passes,
you must contact the SF library (613-283-2911)
Film Night International
Thursday, February 22 @ 2pm (new) and 7pm
Meditation Park
 
Country: Canada
Language: English 
Ontario rating: NYR 
Cheng Pei Pei, Sandra Oh, Tzi Ma, and Don McKellar star in this film about a devoted wife and mother who is forced to reassess her reverence for her husband after she finds another woman's undergarment in his laundry.
For more details visit