The Smiths Falls Station Theatre is a great place to see movies as they were meant to be seen – on a BIG screen (ours is 14 feet wide), with BIG sound (our theatre speakers are big and distortion-free). Seeing a comedy with lots of other people makes it that much funnier (ever heard that laughter is contagious?). Seeing a gripping drama with a crowd gives it that much more impact. Seeing action on a BIG screen makes it that much more thrilling. Come out and enjoy a movie at The Station Theatre.
---
Have you got your Station Theatre Movie Reward Card?


See FREE Movies
---
We're kicking off our movies
in September with a
Classic Kubrick Weekend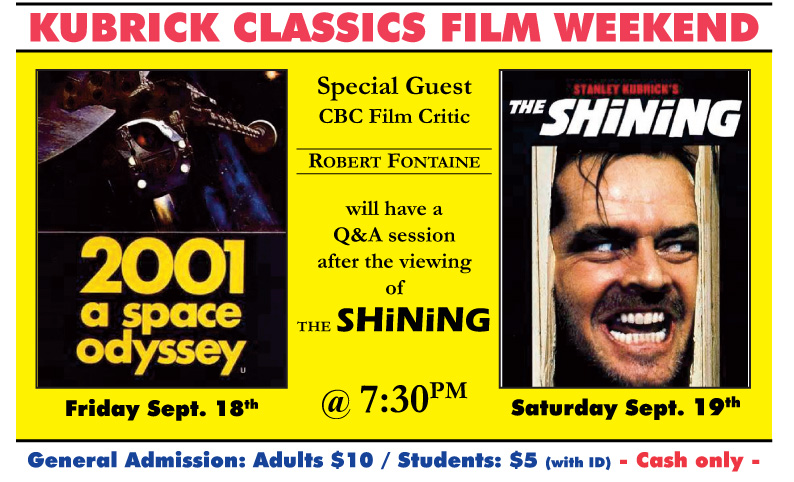 Saturday Sept 19


The Shining

with a Special Guest Appearance by CBC All In A Day Film Critic


Robert Fontaine


Mr. Fontaine personally selected this film as one of his Kubrick favourites. Robert will introduce the film and lead a Q&A session immediately following the screening. If you're a film fan you won't want to miss this evening.
Tickets are available at the door only and seating is limited to 140


Doors open at 7:00 pm
---
 The Kubrick film for September 18
has been chosen by popular vote

You won't want to miss seeing this on our big screen
Tickets At The Door only – Adults $10  Students (with ID) $5.00
---
Film Night International


LEARNING TO DRIVE
THURSDAY, September 24, 2015 at 7:00, STATION THEATRE, SMITHS FALLS
Country: USA
Language: English
Ontario rating: 
After her husband leaves her, a Manhattan writer finds solace in her biweekly lessons with a Sikh driving instructor, in this adaptation of Katha Pollitt's 2002 essay for The New Yorker. In each other's company they find the courage to get back on the road and the strength to take the wheel.
LIVING IS EASY WITH EYES CLOSED
THURSDAY, October 8, 2015 at 7:00, STATION THEATRE, SMITHS FALLS
Country: Spain
Language: Spanish with English subtitles
Ontario rating: 14A
Spain, 1966. Antonio, a high-school English/Latin teacher, drives to Almeria in hopes of meeting his hero, John Lennon. Along the way, he picks up two runaways. Inspired by actual events, this film was Spain's official submission to the Best Foreign Language Film category of the 87th Academy Awards in 2015. The film won best picture, director, screenplay, actor, new actor, and soundtrack awards at Spain's Oscars.
For trailers and details visit