Remembering Pat Smith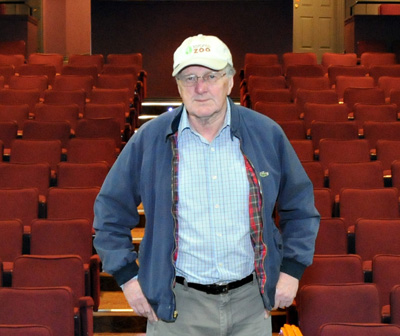 It is with deep sadness that we mark the passing of Pat Smith, the man behind the conversion of the CPR station to the Staion Theatre.
Welcome to the Station Theatre in Sensational Smiths Falls
Housed in the former CPR Railway Station, The Station Theatre opened in April 2010 after more than 11 years of planning, fundraising and construction. The 140 seat facility has become a focus for the performing arts in Smiths Falls as well as a sought-after venue for meetings and receptions.
The Station brings the opportunity to the people of Smiths Falls and surrounding area to enjoy live theatre, concerts and movies and to have the thrill of appearing on stage in local productions.
---
Smiths Falls Community Theatre Award
The Smiths Falls Community Theatre Foundation was pleased to present Jennifer Jasiak with this award at the graduation ceremony for SFDCI graduates on June 29th. Jennifer has been an actor at the theatre for many years, in many different productions. It has been a joy to watch her flourish from a youngster to a young adult. We wish Jennifer all the best in her future endeavours and we hope that the time she spent at the theatre was always a positive experience for her.
---
Summertime at Smiths Falls Station Theatre
While The Station Theatre in Smiths Falls is easing up for the summer (no more movies or Film Night International series - they'll start again in the fall), the doors will remain open.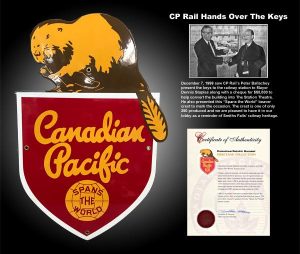 Why not come and see our newly acquired plaque for the lobby - a bright yellow 'Spans the World' beaver crest with a picture and explanation. The crest is only one of 250 produced and is a reminder of Smiths Falls'railway heritage.
As well as the CP plaque, heading to the back of the theatre in the main foyer are more than two dozen Rideau Lakes Artists'Association paintings. The small intimate space is a good venue for their display, and the colourful still-life, animal and abstract art is a great complement to the building. The hangings are changed between shows, so about every two months, and the number of paintings varies at each change; that means fresh art on the walls for each show. Paintings are for sale, each one has a price, and as soon as one painting is bought, another goes up in its place.
While walking around the gallery, take notice of the old CP desk. It belonged to Earl Bedore, Foreman of the East Yard in Smiths Falls. He worked for the Canadian Pacific for 45 years, and his granddaughter, Tammy Edwards, remembers he eventually brought the desk to his home. She says the desk is at least 50-years-old, but probably much older. She also says her grandpa talked endlessly about the CPR. Mr. Bedore died April 2 this year. He was 90.
Our next play
And last, but certainly not least, come and see our August performance - Fort Hemlock. It's a world premiere, it runs from August 18 to 27 and was written by local playwright Emily Duberville.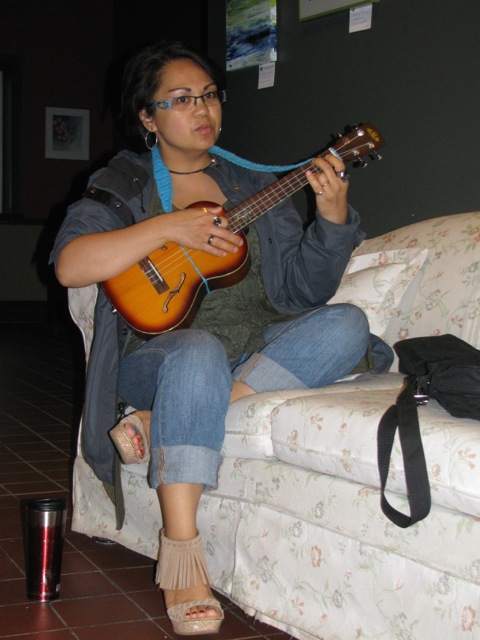 Not to give anything away, but it's set back in the 1870s, is about turkey wars and children taking on the bad guys. Dialogue is quick and sharp, and there's lots of action for kids - a perfect summertime play.
In a quick sum-up, Duberville says "it gives women of Smiths Falls a voice they didn't have before."She says it's a true (although apocryphal) story with some "creative licence."
Tickets for Fort Hemlock go on sale July 17 - $20 for adults and $10 for students (with identification). You can find them at Special Greetings, 8 Russell Street E., Smiths Falls (cash only), smithsfallstheatre.com (PayPal/Visa/MasterCard), by phone at 613-283-0300 (Visa/MasterCard), at the door, if available, a half-hour before performance (cash only). Find the theatre at 53 Victoria Avenue, Smiths Falls.
Summer hours for the Station Theatre are Monday to Friday, 9 to 12.
---
What's Coming Down The Tracks
July 23 & 24 - Auditions for our fall play, Who Dunit? by C. B. Gilford. Click here for info
August 18-27 - Our next play, an original story about Smiths Falls - Fort Hemlock

September 29 - Our next concert in our Music Series - Georgette Fry @ 8pm
Subscribe and Get All The News First
SFCT Membership
All participants in any activity at the Station Theatre (excluding audience members) are required to be a member of the Smiths Falls Community Theatre Foundation.
Click for Details