Welcome to the Station Theatre in Sensational Smiths Falls
Housed in the former CPR Railway Station, The Station Theatre opened in April 2010 after more than 11 years of planning, fundraising and construction. The 140 seat facility has become a focus for the

performing arts in Smiths Falls as well as a sought-after venue for meetings and receptions.
The Station brings the opportunity to the people of Smiths Falls and surrounding area to enjoy live theatre, concerts and movies and to have the thrill of appearing on stage in local productions.
---
Our next play at The Station Theatre
Tickets on sale NOW!!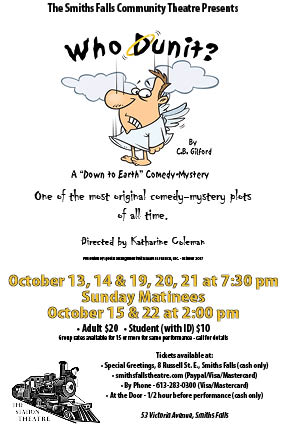 Go to our Play page for more information
---
'Who Dunit?' continues run at Station
Theatre until Oct. 22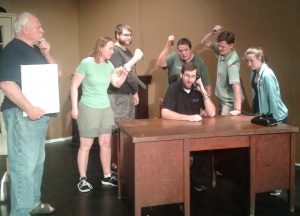 "No … I didn't know who did it until the very end. It was really well done."
Nancy Grundy, a North Gower visitor, loved the laughter and chatter between the angels during Station Theatre's Who Dunit? comedy-mystery that began its run on Friday the 13th and continues from Oct. 19 to the matinee on Oct. 22.
When a famous mystery writer (played by Rich Croteau) is murdered and reaches heaven to stand in front of the Archangel Michael (Stef Robar), he wants to know who killed him. He's sure everyone on earth loved him … so, who did it? The angel Michael doesn't have the answer, leaving only one way to find out — go back to Earth and relive the past 24 hours, in order to solve the murder before it's committed. This time, however, the writer must outwit both the murderer and the high-ranking angel.
Who Dunit? continues its run on Oct. 19, Oct. 20 and Oct. 21 in the evenings at 7:30 p.m., then at 2 p.m. on Sunday, Oct. 22.
For more information about our plays, please go to our play page
Regular hours for the Station Theatre are Monday to Friday, 9 to 12.
---
Remembering Pat Smith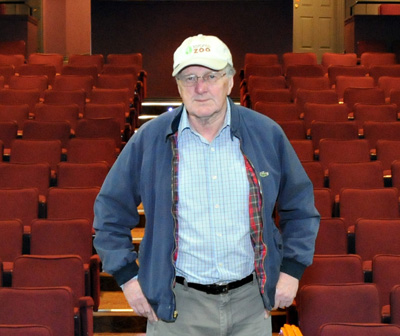 It is with deep sadness that we mark the passing of Pat Smith, the man behind the conversion of the CPR station to the Staion Theatre.
---
Subscribe and Get All The News First
SFCT Membership
All participants in any activity at the Station Theatre (excluding audience members) are required to be a member of the Smiths Falls Community Theatre Foundation.
Click for Details