Our 2020 Season Six-Pack Flex Pack
With our 2020 season of six wonderful theatrical performances set to start this February, we are pleased to offer our theatre patrons the chance to purchase Season Tickets at a fabulous price.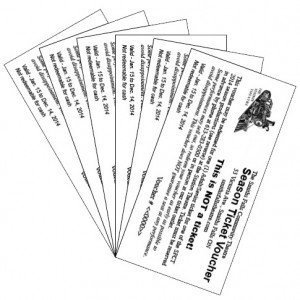 $99 for 6 shows
That's almost 20% off the Regular Adult Ticket Price!
We we call this our Six-Pack Flex Pack.
For $99 you will receive six vouchers that can be redeemed for any of our 2019 shows and you can use them any way you want!
• You could use one voucher for each show
• You could use all 6 vouchers for one show (yourself and five friends)
• You could get two tickets for three shows
• You get the idea.
Here's the fine print
1. Vouchers are sold in packages of six only.

2. Vouchers can only be redeemed for tickets to any of The Smiths Falls Community Theatre's six plays in 2020. Not valid for any other performances at The Station Theatre.
3. Vouchers are valid for use from January 1 to December 6, 2020. Unused vouchers expire after December 6, 2020.
4. Vouchers must be used to purchase adult tickets, either in person at our ticket outlet, by phone or at the door (if available). They cannot be used for on-line ticket purchases.
5. Vouchers do NOT guarantee a seat at any performance. We suggest you redeem your voucher(s) as early as possible when tickets go on sale. Many performances sell-out quickly so don't be disappointed.
6. If redeeming for tickets ordered by phone, you must hand in the voucher when picking up your tickets at the box office.
7. Vouchers must be handed in when purchasing tickets at our ticket agent or at the door.
8. All ticket sales are final. There are no refunds.
Our Six-Pack Flex Pack makes a great gift for anyone who enjoys theatre!
They are on sale now until February 23, 2020
Get Yours TODAY!
---
Here's how to order:
Order on-line using Paypal, Visa or Mastercard (vouchers will be mailed – please supply address for mailing when checking out)
A flat $5.00 convenience fee will be applied to your purchase.
You do NOT need a Paypal account to use your credit card to purchase on-line.
The Buy Now button will take you to our secure PayPal order processing centre. You can order multiple Six-Pack Flex Packs by changing the quantity once you click the BUY NOW button below.
---
Order by phone (Visa/Mastercard) by calling 613-283-0300 between 9 and noon weekdays or if at other times, leave a message and one of our friendly and helpful Ticket Agents will get back to you the next business day.
Vouchers will be mailed to either the purchaser's or the recipient's address (if it's a gift).  A flat $5.00 convenience fee will be applied to your purchase.
---
Purchase In Person – Save the Convenience Fee

Available at Special Greetings, 8 Russell St E. in Smiths Falls (cash only) No credit or debit card sales
At the Station Theatre, 53 Victoria Avenue, weekdays from 9 am-12 noon. Cash or cheque only to save the convenience fee. (Credit card orders can be taken, but the $5.00 convenience fee will be applied).
Flex Packs will be on sale in the lobby at all performances of Robin Hood and the Babes in the Wood and Key for Two. Cash or cheque only to save the convenience fee.