The Smiths Falls Community Theatre operates the Station Theatre and produces plays throughout the year that appear on our stage.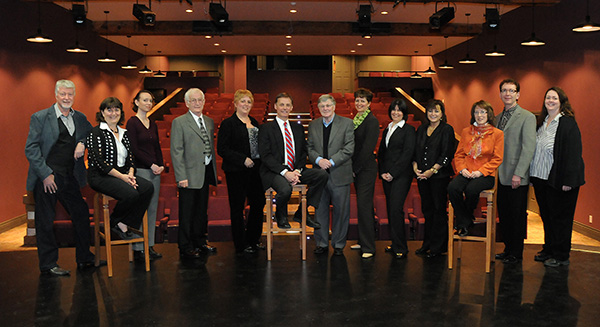 The Board Members at the time of the opening were (L to R): Owen Pardy, Pauline Aunger, Katharine Coleman, Wayne Henwood, Nancy Yunker, Jamie Schoular, Pat Smith, Nancy Lyman, Lynda Daniluk, Lorraine Carter, Patty St. Dennis, Alan Loucks and Nancy Keech.
The 2015-2016 Board consists of
President – Nancy Keech
Vice-President – Katharine Coleman
Treasurer – Mike Adams
Secretary – Lynda Daniluk
Past-President – Roger Sands
Members at Large: Tom Foulkes, David Hoffman, Dave Thornley, Pauline Aunger and Tim Bisaillon.
Committees Chairs
Building – Tom Foulkes
Finance – Mike Adams
Programming & Rentals – Lynda Daniluk
Tickets and Box Office – Katharine Coleman
Front of House – Katharine Coleman
Publicity & Marketing – David Hoffman
Technical – Dave Thornley
Website & Newsletter – Roger Sands
Play Selection – Katharine Coleman