Our 2014 Season Continues
---
Coming in July
They Came From Away

Written and performed by Trevor McKinven
---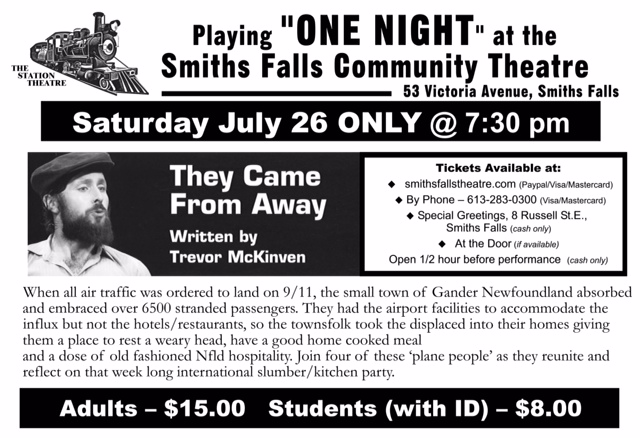 In 'They Came From Away' we join a ..reunion on stage…the 'class of Gander 2001′ as they gather to reminisce and recall those five days in 2001 where they had a impromptu international slumber party, or as Johnny 'Fever' Mcdermott calls it a "regular NEWFNITED nations!!" The audience has a fly on the wall/front row seat to some of the tall tales that emerged from a week that found 6500 unexpected guests 'drop in' on small town NFLD
When airspace was closed and all air traffic cleared from N.A. airspace 38 planes headed to Gander Int. Airport. As the area was not equipped with nearly enough hotels, the townsfolk gladly welcomed the stranded passengers with open arms. Johnny is our 'old school' Newfoundlander who decided to invite his buds back for a 'good ol' fashion yarn' and we get some inside scoop on the giant slumber/kitchen party that ensued.
Johnny is the quintessential 'old school Newfie', an ex fisherman/bus driver who doesn't suffer fools gladly and certainly won't beat around the bush! 76 yrs young and he can't wait to hear the impressions they left on the folks who 'came from away'.
Giovanni Marino is a rather flirtatious 32 yr old Italian from Florence who loves Canada and tries (in broken 'Inglese') to point out the surprise similarities between his NFLD hosts and Italians…..
Sherry Jones is a conservative woman from Georgia who despite her nervous energy will charm 'ya'll' with her southern twang and thankfull nature.
Frankie Schroeder is the consummate New Yorker city fireman who hails from the Borough of Brooklyn and had a rough time dealing with what was happening to his city and the direct effect on his family and friends.
The thread that runs through all these characters is how profoundly grateful they are to have been sent somewhere so special and how it truly saved their collective sanity at such a difficult time. The generous Newfoundlanders did not care who, how or what you were that week, all that mattered was that they received a home cooked meal, a place to rest a weary head and a dash of fun-tastic Nfld hospitality.
Saturday July 26 ONLY @ 7:30 pm
Adults – $15.00   Students (with ID) – $8.00
On-Line Ticket Sales Click Here
(Paypal/Visa/Mastercard)
or
• By Phone – 613-283-0300 (Visa/Mastercard)
In Person



• Special Greetings, 8 Russell St.E.,
Smiths Falls (cash only)
• At the Door (if available)
Open 1/2 hour before performance
(cash only)
---
Coming in August
Railway Children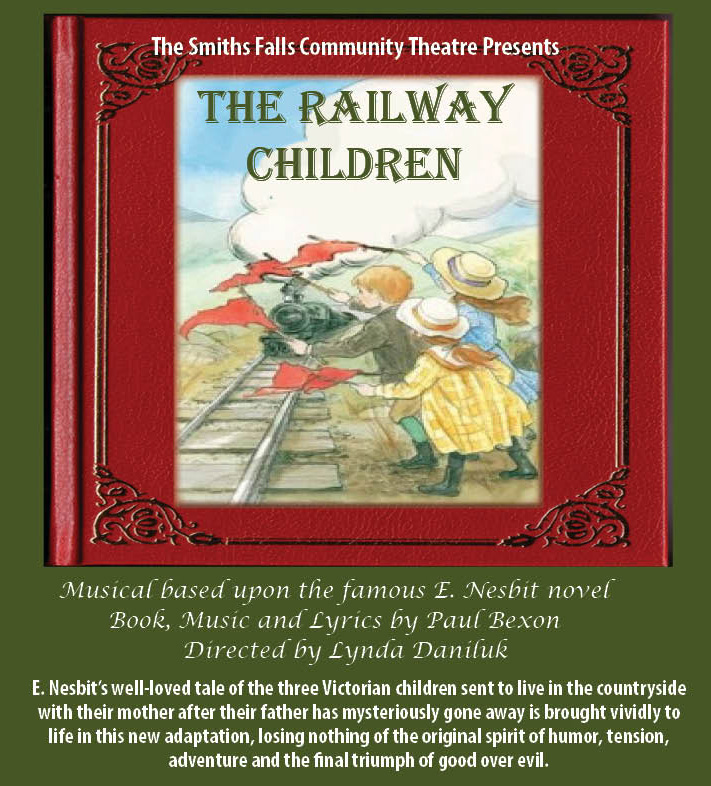 August 14, 15, 16 and 22, 23 @ 7:30 pm
Sunday Matinees August 17 & 24 @ 2:00 pm
(Paypal/Visa/Mastercard)
or
• By Phone – 613-283-0300 (Visa/Mastercard)
In Person –

ON SALE NOW



• Special Greetings, 8 Russell St.E.,
Smiths Falls (cash only)
• At the Door (if available)
1/2 hour before performance (cash only)