'The Secret Garden
' by Miriam Raiken-Kolb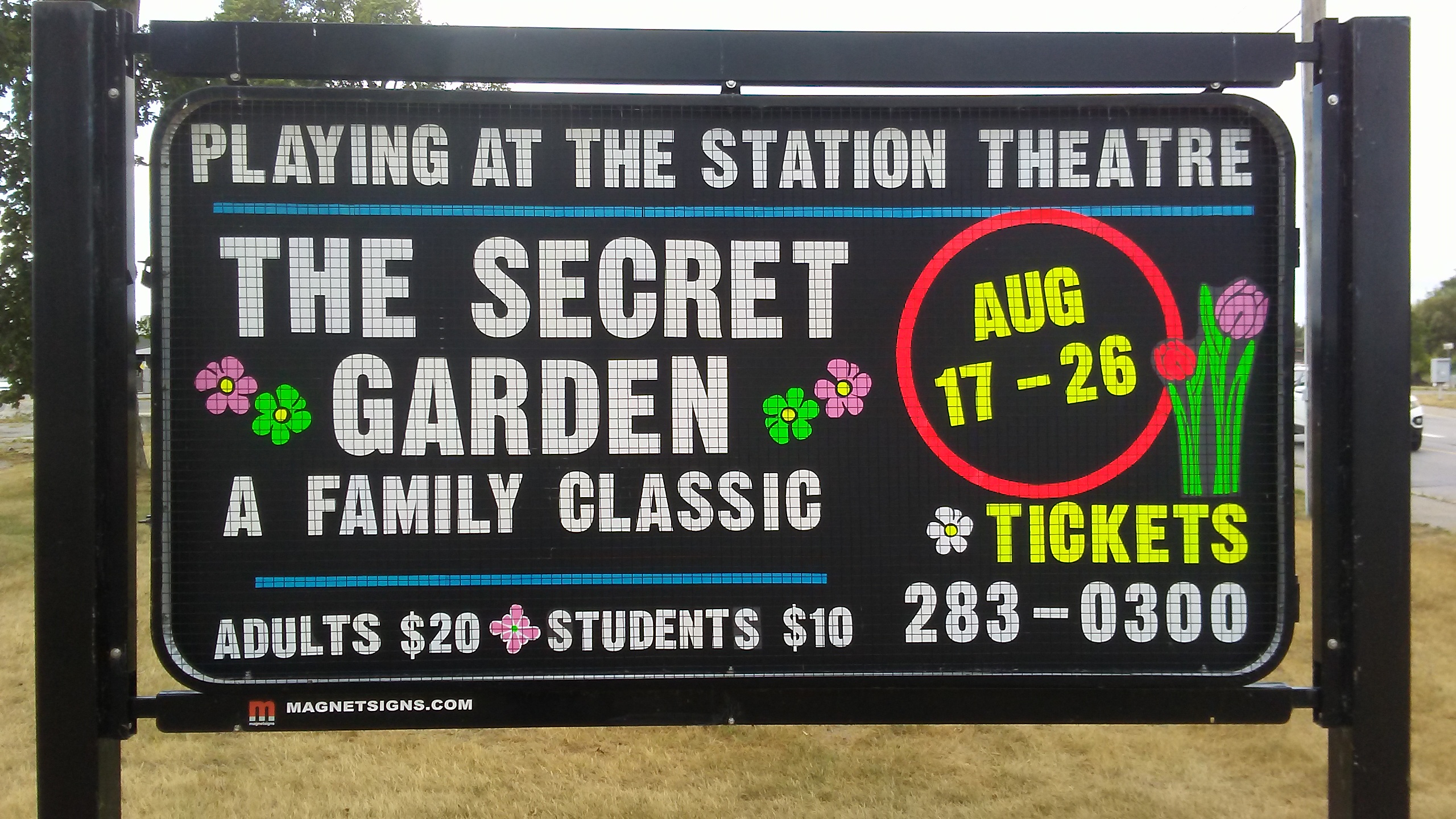 For tickets, click here
'The Secret Garden' at The Station Theatre this Summer
Smiths Falls Community Theatre has a Summer tradition: pick a classic story, add singing and dancing and a whole lot of youngsters and you have our August play. It's a tradition that is very close to director Lynda Daniluk's heart. She believes that the children of today, are the theatre's future of tomorrow. She wants to welcome as many kids who might be interested in participating as possible and putting on a show incorporating kids gives them, often times, their first taste of theatre. A surprising number come back year after year. And by telling classic stories featuring children in it, it welcomes more youngsters to attend a theatrical performance – something they might not do otherwise.
This version of the play, by Miriam Raiken-Kolb is based on the classic children's novel by Frances Hodgson Burnett which was published in 1911. One might think a book written that long ago couldn't be relevant in this day and age, but as Daniluk states "I'm drawn to stories that contain a little magic and have positive messages of love, hope, transformation and triumph. This story has all this, along with a lovely and memorable score." And really, who couldn't use some hope and love in this moment in history. This retelling has all of the essential elements of Hodgson Burnett's original story.
The cast of 22, with the youngest player at age 8 (we won't divulge the oldest's age!) tells the story of young Mary Lennox, who is left an orphan when a cholera epidemic sweeps her home in India. She must move to England to live with a seemingly unfeeling uncle, who has his own pains to deal with. Young Mary is left to her own devices and doesn't know what to do with herself, being used to being waited on and slightly spoiled. The story, with the help of some very catchy songs that move the story along well, blossoms into a story about friendship and positivity, as Mary finds a secret garden that has been neglected for ten years and a little boy who has been kept upstairs for about the same amount of time. Mary and her new friends work to bring a pained family back together so that they can focus on positive memories instead of dwelling on loss.
When asked if it's a challenge to have such a large cast, Daniluk states that the biggest issue in the Summer is availability, but she manages. "The best part is watching so many, who in the beginning don't all know each other – come together almost like a family to tell a story." There is a comradery that is formed when all involved have the same goal, and that, too, can be magical.
Why a musical? As Daniluk explains, "In my opinion, adding music to a story can enhance the artistry. The spoken word is nice, but when thoughts, experience and emotion are put into music, it touches us in a different way." Think of how many song lyrics you remember from your far distant past. Now tell me a speech that you wrote in 5th grade. Music has a special effect on us. And this play will have that same effect on the audience. There is even a part of the story that asks the audience to help bring the magic. It also has some great gardening tips. One even helped bring Daniluk's rose, which was in dire shape, back to life!
So don't miss this uplifting story, running Friday & Saturday, August 17 & 18 at 7:30pm and a matinee show is Sunday, August 19 at 2pm.The second weekend runs Thursday – Saturday, August 23-25 at 7:30pm and finishes up with a matinee on Sunday, August 26th at 2pm. Tickets are $20 for adults, $10 for students and can be purchased with cash at Special Greetings, 8 Russell Street, SF; Online or by phone (613-283-0300) with credit card. If tickets are still available, they can be purchased 1/2hr before showtime, at the door, with cash. Special Group Rate for groups of 15 or more. For more info: www.smithsfallstheatre.com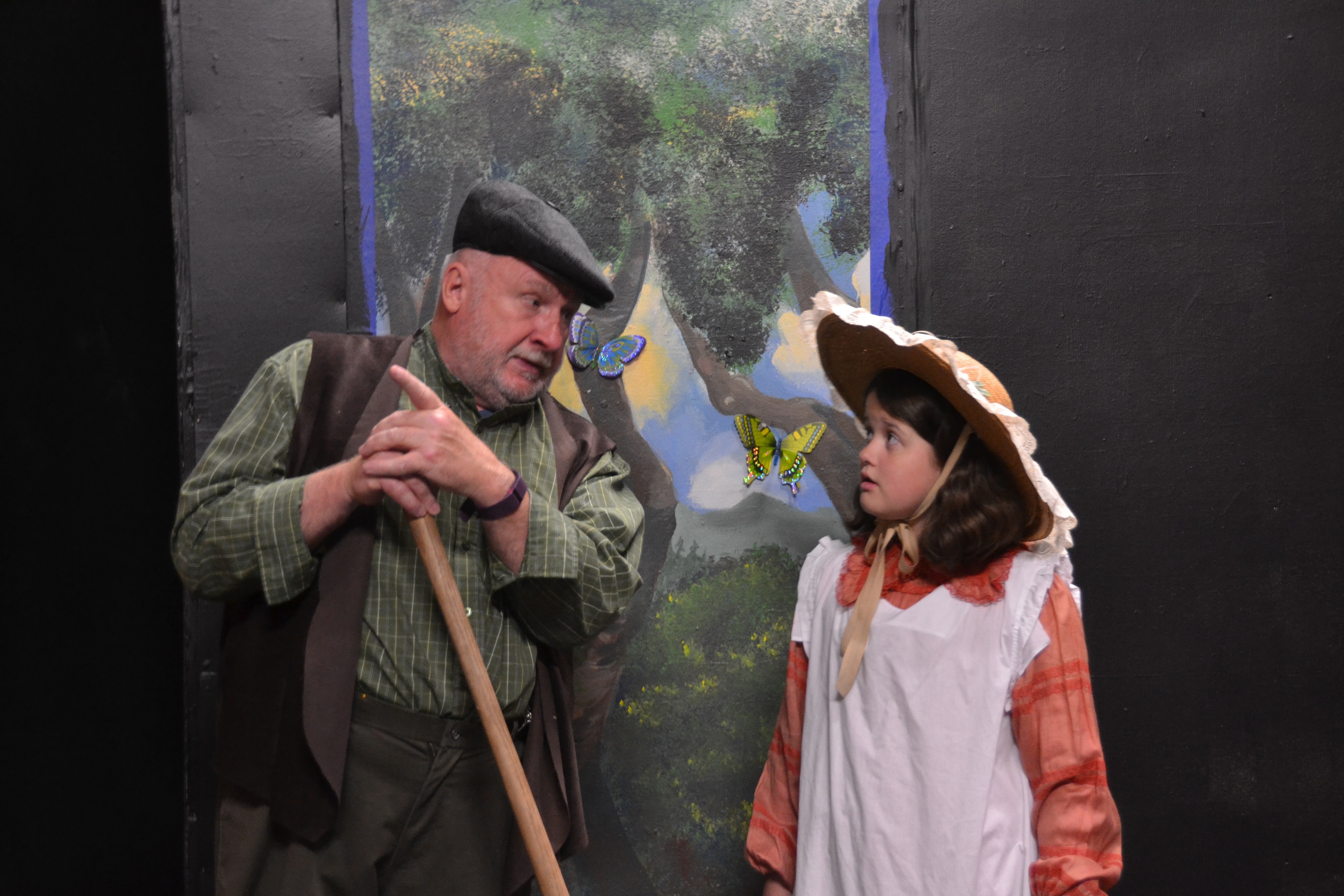 Mary Lennox (Addison Brown) has just met Misselthwaite's gardener Ben Weatherstaff (Stef Robar) and wants to know more about the gardens.
Photo by Cheryl Colford