'The Great Kooshog Lake Hollis McCauley
Fishing Derby' by Norm Foster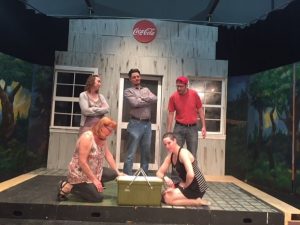 For tickets, click here
It's time for the annual fishing derby this weekend at The Station Theatre
'The Great Kooshog Lake Hollis McCauley Fishing Derby' is starting it's run just in time for fishing season. With a title like that and Foster on the bill, you know you are in for big laughs and some touching moments.
In her directorial debut here, Nicki Hayes, most recently seen on stage in last month's 'Butterflies are Free', has assembled a group of five actors who are all becoming well known to theatre goers in the area. The story is as follows: James Bell (Noel White, last seen in February's 'Rumors'), a big city guy, has his car break down in the rural community of Kooshog Lake and finds he's stuck there for the weekend. While there, he meets the eccentric locals including the mechanic, Kirk Douglas – not that one (Rich Croteau, most recently in Kemptville's 'An Inspector Calls') who owns the bait and tackle shop; Sienna – not that one (Chris Winter, who stole the show in 'Nana's Naughty Knickers') who owns Sienna's Grocery where most of the action of the play takes place; Melanie (Katharine Coleman, most recently directed 'Who Dunit?' ), who owns the local antique shop and becomes the reluctant love interest and Rhonda (Mandi Reed, from Who Dunit?) the biggest flirt you could find in town, who seems to own and run everything else.
With nothing better to do while waiting for his car to be fixed in what he considers a backwards town, James enters the annual fishing derby, where it's not about the biggest fish, just the one specific fish with the special lure stuck in his mouth, Hollis McCauley (named after Kirk's high school shop teacher – not a pretty man!). The dialogue in this play is where the humour comes from. Foster delivers another quick paced and witty script with characters that everyone will be able to relate to. Watching this play, you'll be able to identify your neighbour down the street, and maybe even yourself. By the end, James reconsiders what he really values as he discovers the best qualities of the strange community he is in. There are lessons to be learned here, but they are subtle. The laughs, however, are not! 'The Great Kooshog Lake Hollis McCauley Fishing Derby' is the perfect show for small town Ontario!
The play opens this Friday, June 15th with a 7:30pm curtain. It continues on Saturday, June 16th at 7:30 and Sunday matinee, June 17th at 2pm. Next week the show continues Thursday – Saturday, June 21-23 at 7:30pm and final show is Sunday, June 24 at 2pm. Tickets are $20 for adults, $10 for students and can be purchased with cash at Special Greetings, 8 Russell Street, SF; Online or by phone (613-283-0300) with credit card. If tickets are still available, they can be purchased 1/2hr before showtime, at the door, with cash.
As an added incentive, NOAL Pantry, 6 Russell Street, (613-706-2188) has created a special meal for patrons attending the evening performances of 'The Great Kooshog Lake Hollis McCauley Fishing Derby'. Order by 6pm and have your Roast Sirloin Tip dinner done and enjoyed by 7pm, plenty of time to get to the theatre for 7:30 curtain.  Reservations preferred, but last minute diners more than welcomed. Go to the Station Theatre Website for more information www.smithsfallstheatre.com/next-play.
The Cast: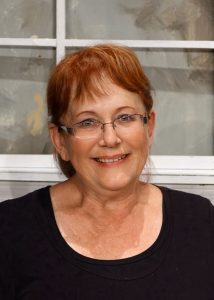 Chris Winter as Sienna (not that one)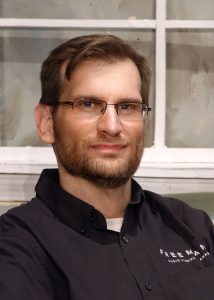 Rich Croteau as Kirk Douglas (not that one)
Noel White as James Bell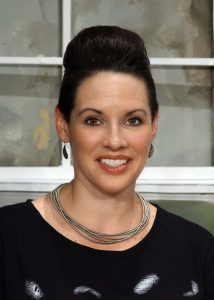 Mandi Reed as Rhonda Borkowski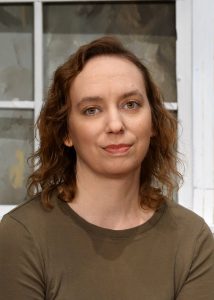 Katharine Coleman as Melanie Morningside