We are pleased to announce
The Station Theatre's 2018 Season
6 Great Shows for Your Enjoyment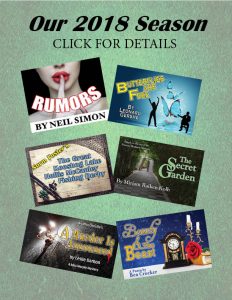 ---
Our 2018 Season Voucher packs are now on sale
---
Our New Season Starts NOW!
Welcome to our 2018 Season of Plays.
We have something for everyone in the year ahead. 
Tickets on sale NOW!
February 23 – March 4
Rumors
by Neil Simon
is presented by special arrangement with Samuel French, Inc. – Feb/Mar 2018.


We start our season with an 'American Farce' by the comedy master, Neil Simon. In upscale New York, the Deputy Mayor has just shot himself. Gathering for their tenth wedding anniversary, the host lies bleeding in his bedroom and his wife is nowhere in sight. His lawyer, Ken, and wife Chris must get "the story" straight before the other guests arrive. As the confusions and mis-communications mount, the evening spins off into classic farcical hilarity.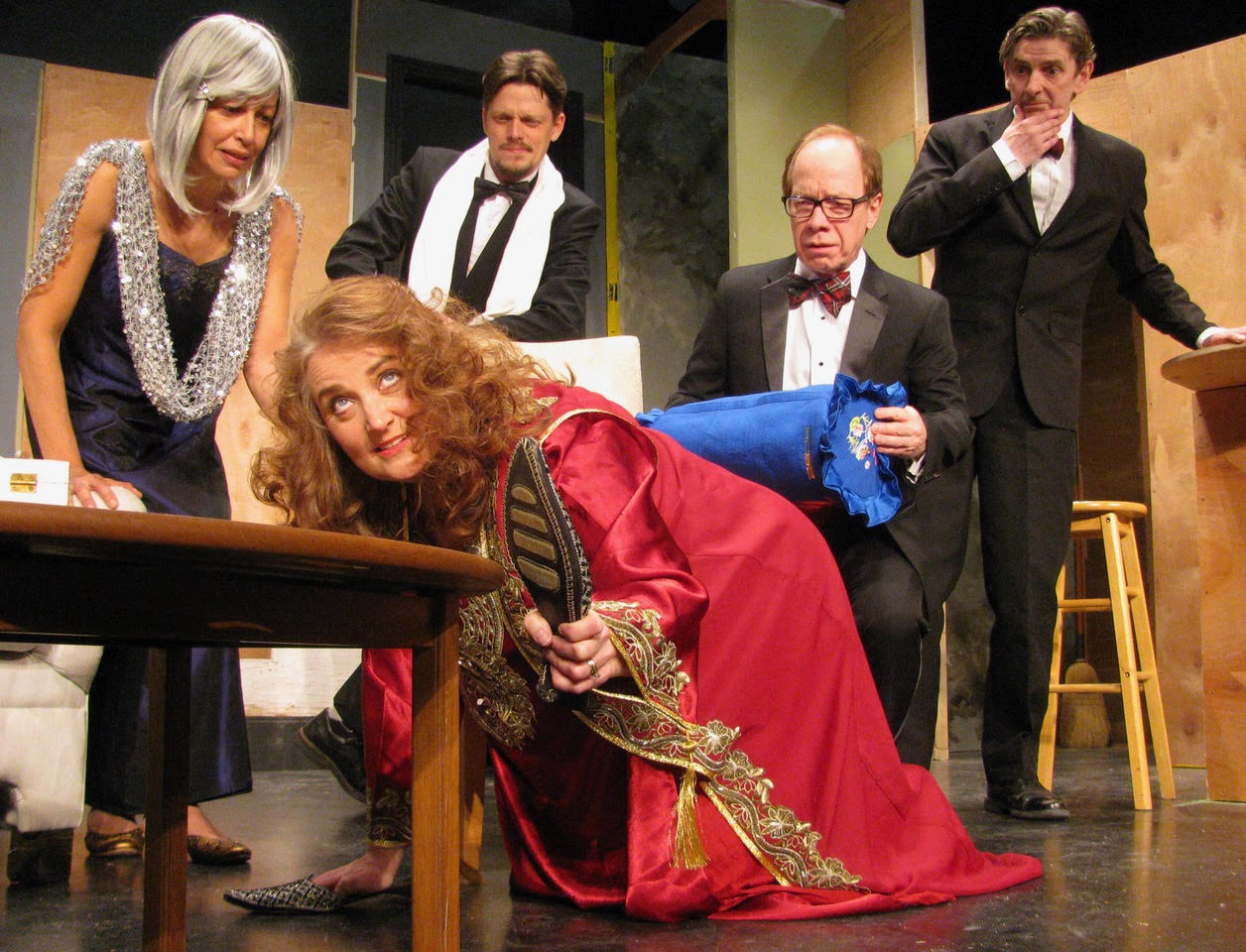 The Theatre season in Smiths Falls starts with a full-on belly laugh. Neil Simon's Rumors is the first play of 2018; get set for guffaws, giggles and howls of hilarity even though the scene behind the scenes is a darker one.
Chris and Ken have arrived for a 10th anniversary celebration with their friends, Charley and Myra. Charley is the Deputy Mayor of New York. Three other couples will join them for a cultured and grand evening, ladies dressed to the nines and men in tuxedoes.
Chris and Ken are startled on their way into the apartment to hear a gunshot; Charley has tried to kill himself. The cover-ups, the confusion, the witty dialogue all intended to keep the facts away from each other and certainly to keep it out of the news, make for a great evening of entertainment.
Some familiar act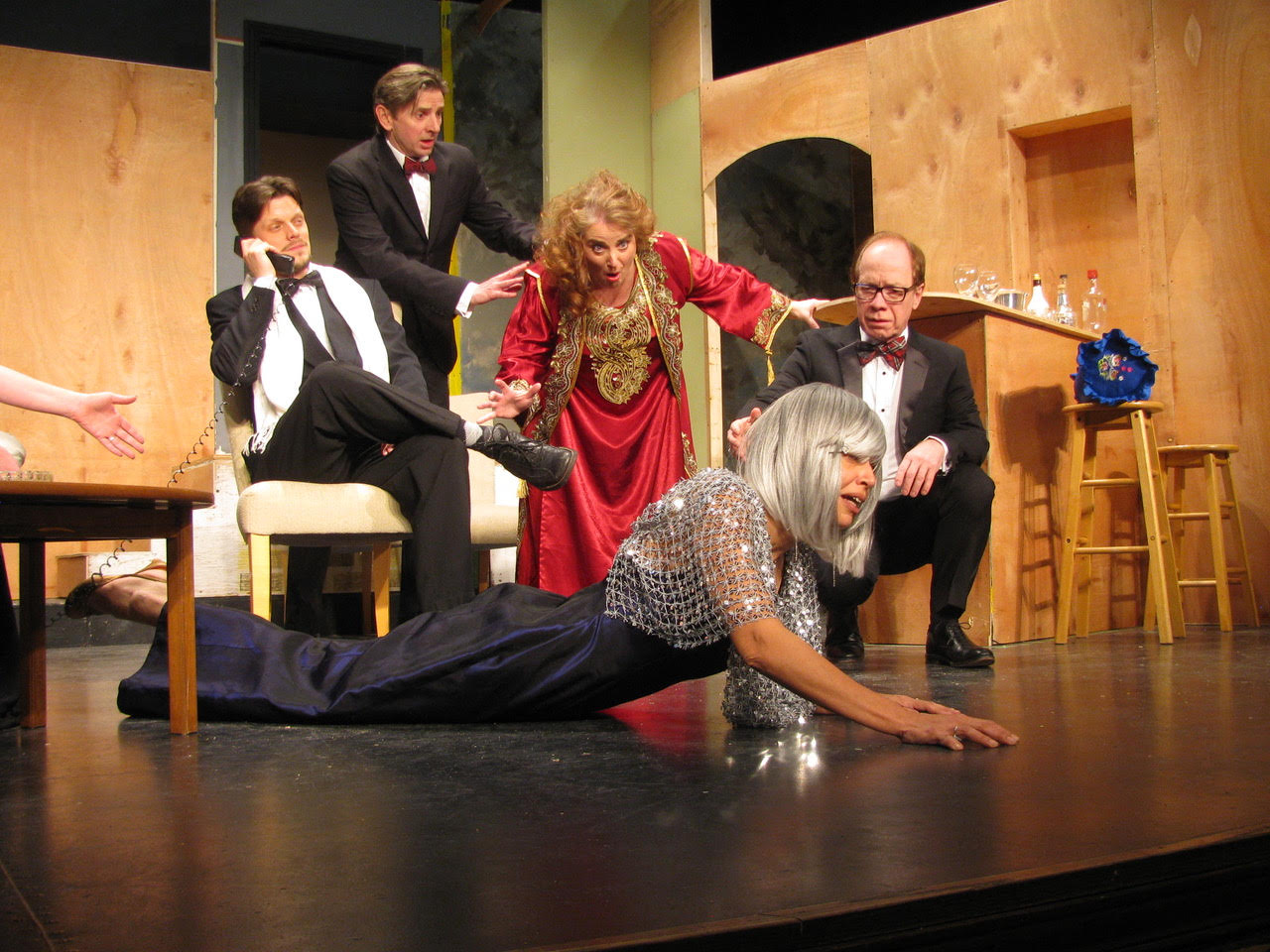 ors are back. Director Nancy Keech selected a cast with chemistry; she says "Jamie Schoular and Robert Del Grande are the Abbott and Costello of the Station Theatre, and the rest of the cast fits in perfectly to their comic pairing."  Schoular plays Ken and Del Grande, Lenny.
Heddy Sorour (last seen in Who Dunit?) plays Chris, Ken's wife. Chris, says Sorour, is "a neurotic, bimbo lawyer who turns to vodka for want of a cigarette and is not above smoking the odd Q-tip."
Sheila Jasiak is back as Cookie wearing her "grandmother's dress from Russia", and Ursula Rice-Leech, a 17-year-old  SFDCI student plays Officer Pudney, a strong but silent policewoman. Rob Glas (Officer Welch) was on stage last in No Sex Please…We're British. You've probably seen Maria Fournier at the Heritage Museum; she plays Cassie. Keech says Fournier acted for her in high school and has come back to Smiths Falls from away. Noel White plays her husband, Glenn. And though he's fairly new to acting, he's been involved with The Station Theatre designing and building sets for three or four years. Julie Heney, new to The Station Theatre, but not to acting, plays Claire; Garry Welsh her husband, Ernie.
Keech says "the play is a hilarious romp, a farce with no purpose except to make you laugh – a perfect remedy for the Winter Blues. Pairing this cast – some new-to-us faces and some old favourites – with Neil Simon's brilliant words, you can't go wrong."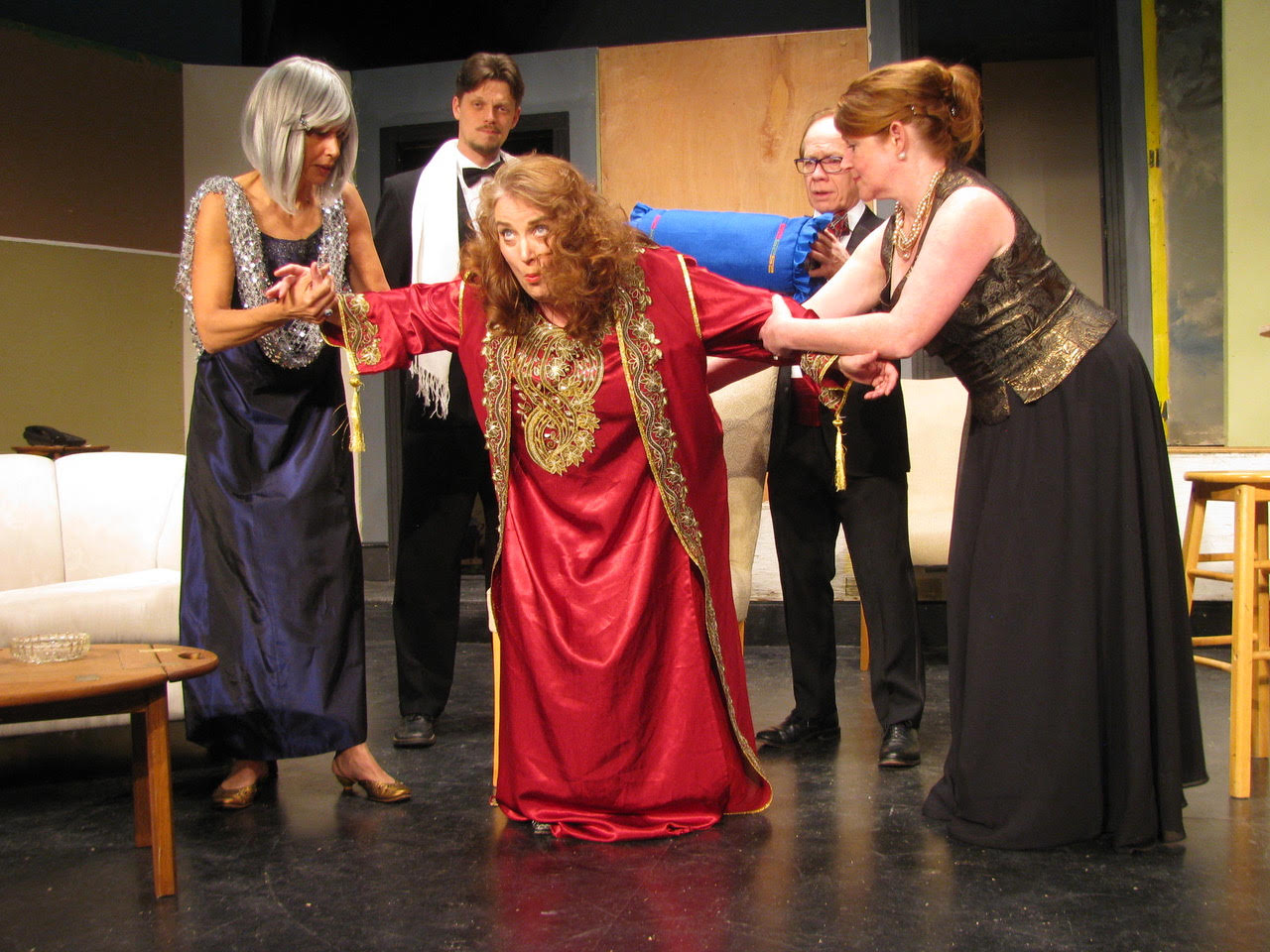 Adults $20 – Students (with ID) – $10
The show runs:
Friday and Saturday, February 23 & 24 @ 7:30pm,
Sunday, February 25 @ 2pm
Thursday, Friday & Saturday, March 1, 2 & 3 @ 7:30pm,
Sunday, March 4 @ 2pm
---
Tickets on Sale NOW!
Where to get tickets:
In Person at Special Greetings,
8 Russell St E., Smiths Falls
Cash only – no credit card sales
---
By Phone at 613-283-0300
(Visa or Mastercard Only)
---
Online (PayPal, Visa or Mastercard)
There are no on-line ticket sales on the day of performance


---
At The Door (if available)
1/2 hour before performance (cash only)
---
Our Seating Chart