The Station Theatre 2017 Season
6 Great Shows for Your Enjoyment
---
Tickets on sale NOW!
August 18-August 27

Fort Hemlock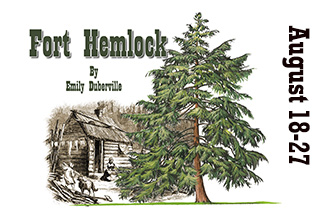 Fort Hemlock
A world Premiere
by Emily Duberville
is presented by special arrangement with EMILY DUBERVILLE.


The parts are cast, the rehearsals have begun and so begins the telling of an original script,
written by local, Emily Duberville.
The Story – Once upon a time, for real, in Smiths Falls the townsfolk really talked "turkey". The annual Turkey Fair was one of their main sources of livelihood here. Even the young ones in town knew how important it was to their way of life. When a mysterious woman comes to town it quickly becomes apparent she is up to no good with some unscrupulous menfolk mostly from Macdonald's Corners who are determined to make an income in illegal ways. The young ones learn of their plans and quickly set about to foil them. It all comes down to the battle at "Fort Hemlock"!
Adults $20 – Students (with ID) – $10
The show runs:
Friday & Saturday, August 18 & 19 @ 7:30pm,
Sunday, August 20 @ 2pm
Thursday, Friday & Saturday, August 24, 25, 26 @ 7:30pm,
Sunday, August 27 @ 2pm
Special deals in connection to our Summer Play
Fort Hemlock – the restaurant – 32 Beckwith Street S.
Special dinner voucher for Saturday nights, August 19 and August 26.
Purchase your ticket for the play at Special Greetings and at the same time pick up your dinner voucher for $15 for either of those two Saturdays.
Selected meal of fish, chicken or beef. Drinks and dessert not included.
Must be seated by 6pm for dinner and must show your voucher when you order.
Heritage House Museum – 11 Old Slys Road
Special Tea, Tour and Theatre for Sunday matinees, August 20 and 27.
Purchase your ticket for the Sunday matinee play and with proof of purchase receive a tea and tour at the museum for only $8 for either of those two Sundays.
Tea and tour is at 11:30am at the museum.
For more information, contact the museum at 613-283-6311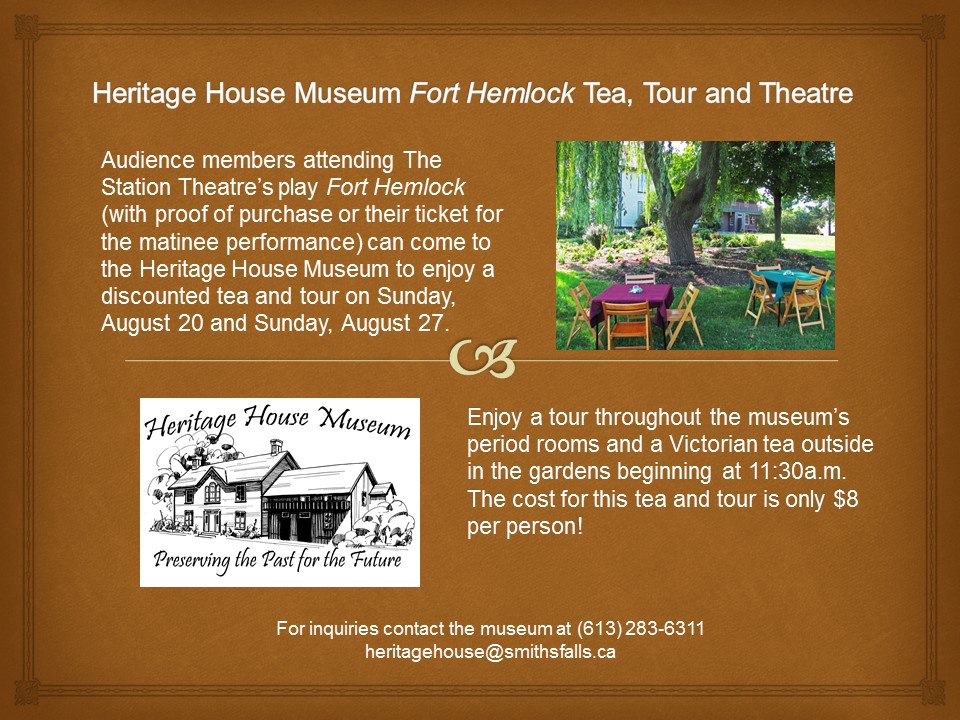 ---
Tickets on Sale NOW!
Where to get tickets:
In Person at Special Greetings,
8 Russell St E., Smiths Falls
Cash only – no credit card sales
---
By Phone at 613-283-0300
(Visa or Mastercard Only)
---
Online (PayPal, Visa or Mastercard)
There are no on-line ticket sales on the day of performance


---
At The Door (if available)
1/2 hour before performance (cash only)
---
Our Seating Chart