Welcome to our 2018 Season of Plays.
We have something for everyone in the year ahead. 
Tickets on sale NOW!
April 27 – May 6
Butterflies are Free
by Leonard Gershe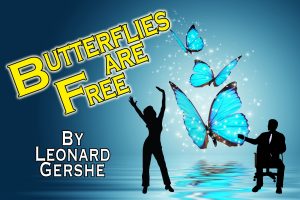 is presented by special arrangement with Samuel French, Inc. – Apr/May 2018.


Young Don Baker (Garrett Pipher), hero of his mother's children's book series, "Donny Dark" has been blind since birth, his overprotective mother (Donna Howard) following his every move. Don finally decides to take his own apartment in Manhattan and pursue his songwriting ambitions. When she meets his kooky neighbor, sexy actress Jill (Nicki Hayes), Mrs. Baker's controlling instincts go into overdrive with hilariously touching results. Also starring Lucas Tennant as Jill's director friend, Ralph Austin.**
"A lovely play. It is funny when it means to be, sentimental when it is so inclined, and heartwarming."                                                                         –New York Daily News
**For more about the play, click here
** To listen to Donna Howard and Nicki Hayes speak
with Brian Perkin from Lake 88.1, click here
Adults $20 – Students (with ID) – $10
The show runs:
Friday and Saturday, April 27 & 28 @ 7:30pm,
Sunday, April 29 @ 2pm
Thursday, Friday & Saturday, May 3, 4 & 5 @ 7:30pm,
Sunday, May 6 @ 2pm
And check out this deal with local restaurant NOAL Pantry for all evening performances of the show: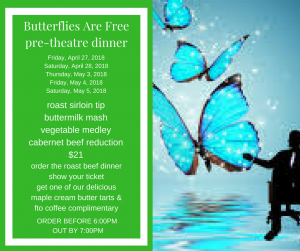 NOAL Pantry – 6 Russell Street East – 613-706-2188
*Reservations preferred, but last minute diners more than welcomed!*
---
Tickets on Sale NOW!
Where to get tickets:
In Person at Special Greetings,
8 Russell St E., Smiths Falls
Cash/Vouchers only – no credit card sales
---
By Phone at 613-283-0300
(Visa or Mastercard Only or Vouchers)
---
Online (PayPal, Visa or Mastercard)
There are no on-line ticket sales on the day of performance


---
At The Door (if available)
1/2 hour before performance (cash/vouchers only)
---
Our Seating Chart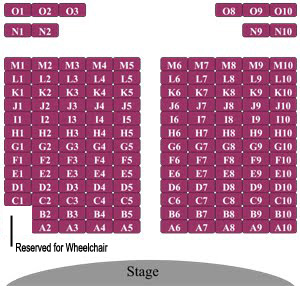 ---
We are pleased to announce
The Station Theatre's 2018 Season
6 Great Shows for Your Enjoyment