The Station Theatre 2017 Season
6 Great Shows for Your Enjoyment
---
Tickets on sale NOW!
October 13-October 22

Who Dunit?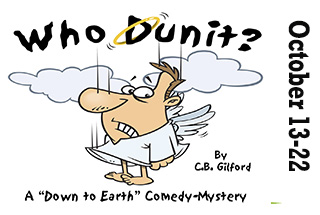 Who Dunit?
by C. B. Gilford
is presented by special arrangement with SAMUEL FRENCH, Inc – October 2017.


The Story – One of the most original comedy-mystery plots of all time. It first ran as a short story in Ellery Queen's Mystery Magazine, and was later a hit on "Alfred Hitchcock Presents", translated into a dozen foreign languages, reprinted in several anthologies. What happens when a famous mystery writer is murdered, goes to Heaven and discover's that not even St. Michael knows who murdered him? There's only one answer: Saint Michael sends him back to earth to relive the past twenty-four hours of his life in order to solve the murder before it is committed. The writer discovers everybody he knows has a good reason to kill him! And then – is he just going to sit there and let it happen a second time? So the writer must outwit both the murderer and the Archangel Michael.
Adults $20 – Students (with ID) – $10
The show runs:
Friday & Saturday, October 13 & 14 @ 7:30pm,
Sunday, October 15 @ 2pm
Thursday, Friday & Saturday, October 19, 20, 21 @ 7:30pm,
Sunday, October 22 @ 2pm
---
Tickets on Sale NOW!
Where to get tickets:
In Person at Special Greetings,
8 Russell St E., Smiths Falls
Cash only – no credit card sales
---
By Phone at 613-283-0300
(Visa or Mastercard Only)
---
Online (PayPal, Visa or Mastercard)
There are no on-line ticket sales on the day of performance


---
At The Door (if available)
1/2 hour before performance (cash only)
---
Our Seating Chart