Michael Costello
Concert Pianist
Friday, March 23 @ 8pm
Tickets $20 – ON SALE NOW!!
 
A concert of piano classics and
contemporary pieces sure to entertain
the listener!
Check out Michael's piano sounds here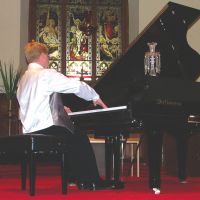 Audiences will enjoy timeless piano favorites from the classics to beyond.  Michael's pianistic style and interpretation come to life in the works of Chopin's Heroic Polonaise in Ab Major, Mozart's Piano Sonata in Bb major(k.333), Debussy's Clair de Lune and more. As a pianist Michael is described as having a fluid technique and warm touch which draws the listener into the music. Michael breaks down formal barriers with his fun and interesting narrative that touches upon the composers life and musical styles the pianist most portray.